Over the past few years, cities and states across the U.S have been advocating for its citizens to "buy local" in an effort to boost community business success and, ultimately, strengthen local economies.
But, now, businesses of all sizes and ages have an expanding avenue by which to reach their growth and revenue targets. We're calling it the "sell local" opportunity, and it could be worth billions. Especially for those in the IT sector who have the resources and willingness to compete for public sector contracts. Here's why:
Most businesses with a government-centric sales strategy look for solicitations at the federal level first. There's a perception that federal awards are more lucrative than state or local agency contracts, and sometimes they are. Though, in many cases, they're also more difficult to secure due to the amount of competition and performance stipulations.
That's why, at least for the next two years, you may find it easier to win new government business – and achieve a greater payoff – by fulfilling state and local agencies' increasing tech needs.
While the federal government is currently focused on reforming and reducing its IT spending, state and local governments agencies are committing more money than ever to technologies that will enable them to execute on their smart city modernization initiatives; strengthen their cybersecurity systems; and improve citizen services through the expansion of e-government systems; among other programs. They're particularly interested in procuring cloud and software-based services that can ease their implementation of emerging technologies and minimize tech management burdens for lean IT departments.
In fact, annual IT spending by state and local government and education sectors increased 17 percent from 2009 to 2016. And, for the first time in years, state and local government agencies are going to outspend the federal government in this category. Forrester Research forecasts a $4 billion increase in state and local IT spending in 2017 and another $5 billion spending increase in 2018. That means, for the next two years, $112B and $117B respectively will be awarded to private sector tech experts. All while the federal IT spend falls $1 billion.
Want To Take Advantage Of The Growing Government IT Market?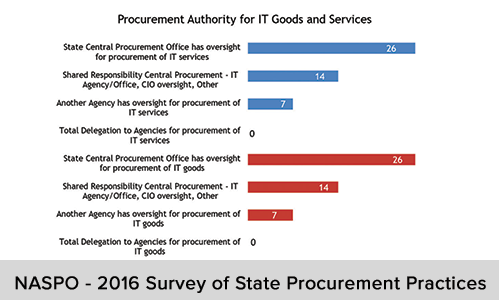 Recognize that IT procurements are often handled differently from other commodity and service buys. IT procurement methods are transforming: In some cases, central IT authorities are being created to standardize tech systems and manage statewide procurements. Other agencies are increasing their utilization of co-op contracts to ease market research requirements and reduce contract management obligations for procurement teams trying to balance budget increases against workforce reductions. Therefore, it is imperative that you confirm which contract method each state and local agency predominately uses to buy IT hardware, software, and services. You may learn that, even within a single state or local agency, multiple solicitation types are used, dictated by the contract's total value. You may also find that some states only buy off of the NASPO ValuePoint contract; therefore, if you're not listed as a vendor, state agencies will not be able to do business with you. Even if you have the superior product, with the right specifications, at the lowest price. 
Understand the Government's Unique IT Requirements
Do your research to confirm which IT hardware, software, and services each agency plans to buy over the next two years, then verify the technical specifications for each so that you can adjust product features if necessary to qualify as a vendor. For example, government agencies often require SmartCard/CAC readers and/or biometric authentication measures for computing technologies. If you don't offer those capabilities, then your proposal won't be considered due to your inability to meet basic requirements.  
Remember That References Still Matter
As with any procurement, IT buyers need re-assurances that your hardware, software, and or service offerings will do exactly what you say they're going to do. Data security is a priority for all businesses, but especially the government. And IT system reliability is critical to meeting overall government productivity, accountability, and compliance goals. Therefore, suppliers are often selected based on their performance record (especially if there's a minimal price difference between competitors).  Customers need re-assurances that your team can integrate your tech component into the broader IT architecture without major issues. They also want to know you'll help them expedite worker on-boarding and commit resources to the optimization and maintenance of the overall IT system, if needed, to eliminate the risk of downtime from hardware or software failure.